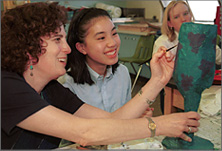 The respected reputation of The Dorris-Eaton School, the engaging academic environment, the collaborative teaching spirit, and the San Francisco Bay Area location offer much to anyone seeking long-term employment. Infrequent turnover is our best reference.

Since teacher, administrative, and staff positions become available when we least expect them, resumes with cover letters are accepted throughout the year.
TO APPLY:
Send, deliver, or email resume and cover letter to:
The Dorris-Eaton School
1 Annabel Lane
San Ramon, CA 94583
Email: director@dorriseaton.org
ONGOING INTEREST:
To meet the needs of our ever-evolving curriculum and other changes, we welcome resumes for preschool and K-8 teachers and substitutes at any time.
Preschool note: Our preschool is a genuine teaching environment. We build vocabulary, introduce reading and math readiness, and cultivate eagerness for learning. Our professional staff prepares students for school success on a five-acre park-like campus in Alamo. Minimum 12 ECE units required. Top pay and benefits.
The difference is education.