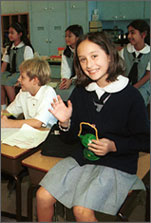 Click to download our Application and Application Checklist.
Financing a Dorris-Eaton Education
The Dorris-Eaton School seeks to attract a diverse and talented student body. To achieve that end, Dorris-Eaton is committed to providing financial assistance to qualified students whose families cannot afford The School's full tuition. A Dorris-Eaton education is an investment in your child's future. The cost of tuition should not be the determining factor in whether or not to apply. Financial aid is provided in the form of tuition reduction and is awarded on the basis of demonstrated financial need.
Our financial aid program is completely self-funded. In order for us to allocate our resources equitably, we use Tuition Aid Data Services (TADS), an independent service, to evaluate the financial information and documentation you provide. TADS provides us with an estimated amount your family can contribute for educational expenses. The Financial Aid Committee reviews the TADS assessment and backup documentation submitted to determine the amount of assistance that can be offered, based on The School's overall budget. The School does expect that a family will be willing to make what could be significant adjustments in the use of discretionary resources when those are available. To apply go to www.mytads.com.
Financial aid decisions are made independently from admission decisions and do not affect a candidate's chances for admission.
The difference is education.