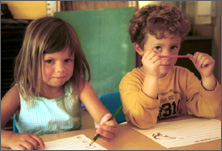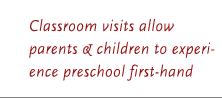 The enrollment process for The Dorris-Eaton Preschool and Junior Kindergarten begins in the fall prior to the school year in which the student will attend. Students are also accepted throughout the year on a space-available basis, as mid-year vacancies do occur. Families interested in admission are required to tour the campus with Preschool Director Julie Bush. Classroom visits allow parents and their children to experience the Dorris-Eaton Preschool first-hand.
Students and parents are invited and encouraged to attend our Open House on Sunday, January 29, 2017 from 11 A.M. - 2 P.M. or Friday, May 19, 2017 from 8-11 A.M. to tour the campus and meet current teachers.
To tour the campus, call 925.930.9000 or contact us at admissions@dorriseaton.com.


The difference is education.