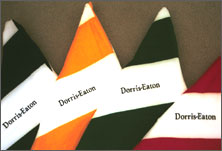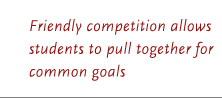 Part of the excitement of reaching junior high stems from the Interhouse program, whether you are a Bear, a Cougar, a Wolf, or an Eagle. Perhaps nowhere else is the foreshadowing of adult personalities and burgeoning leaders more apparent. Under the experienced guidance of the Interhouse facilitators, students develop leadership competencies and engage in a range of activities sufficient to offer each child his or her 15 minutes of fame.

Friendly competition allows students to pull together for common goals (service, scholastic, sports, and a little challenge for the sake of challenge) and learn to handle the "thrill of victory and the agony of defeat." As risk taking becomes more comfortable, fervor builds toward the end-of-the-year tallying of house points and the awarding of the coveted trophy.

The difference is education.