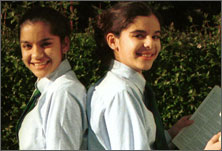 The Student Council is every student's chance to experience the electoral process first-hand. Whether he or she chooses to run, manage, assist or observe, a student soon realizes the process is to be taken seriously, from campaigning and speech making to voting and the carrying out of promises.

At work, the Council spearheads outreach programs and service projects during the year with the enthusiastic support of the student body and their families.

The difference is education.