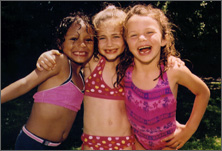 Dorris-Eaton offers a summer preschool program for three and four year olds entering preschool in the fall. Held on the Alamo campus, it is designed to enrich academic as well as classroom and social skills. Along with solidifying newly found friendships, children have the opportunity to build an expansive vocabulary and review their phonics and numbers. As students cut, paint, color and print, they fine-tune their small motor skills. Listening, observing, organizing, and following directions are woven into every activity. Children develop their large motor skills as they romp in the school's extensive park-like playground. Classes are available in one-week sessions from June 26 through July 28*. See information below for details.
PRESCHOOL ENRICHMENT – 9 A.M. to noon, Monday through Friday or Monday/Wednesday/Friday.
CAMPS/EXTENDED CARE- From June 26 through July 28*, Adventure Day Camp will be offering preschool camps from noon until 4 P.M. and extended care until 5 P.M. on our Alamo campus. Registration for camp/extended care is done only through Adventure Day Camp. The link below will take you directly to their website for details.
*No enrichment classes July 3-7. Adventure Day Camp is available July 3 and July 5-7.
The School and Adventure Day Camp reserve the right to cancel or change classes/activities.
Download PDF fliers and applications:
Preschool Summer 2017 Details
Preschool Summer 2017 Registration Agreement
For more information about Summer 2017, select admissions@dorriseaton.com or call 925.930.9000.
The difference is education.