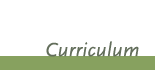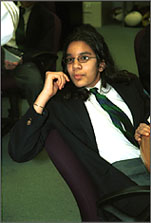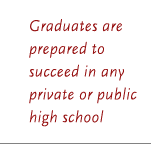 Nowhere at Dorris-Eaton is the college preparatory nature of the curriculum more evident than in the junior high. Students are exposed to the Socratic method and taught to expand and exercise their higher-order thinking skills. Group discussions and investigations, particularly in science and history, are a mainstay of classes, and healthy debate is encouraged. The spirit of teaching, as much as the academic offerings, contributes to the development of practical wisdom and the ability to make sound and useful decisions, and a sense of stewardship-globally, as well as locally.

The core curriculum includes literature, mathematics (pre-algebra, algebra, and geometry), writing, science (earth science, biology, and chemistry/physics), grammar, history (ancient civilizations, world history, and U.S. history), Spanish, and geography. In all subjects, note-taking, outlining, organizing, and time management are taught and continually reinforced. Students are called to action by an impressive array of challenges included in the computer and technology curriculum. Dorris-Eaton considers art, art history and appreciation, and physical education courses to be of equal importance in the curriculum and takes careful steps to interrelate these disciplines. Students may further elect to participate in band and instrumental music.

Along with the specialized teaching staff, students benefit from technology, educational travel, academic enrichment programs, and numerous extracurricular activities, including an after-school sports program. Student government, community service projects, and the student volunteer program encourage good citizenship and public spirit. The Interhouse program builds community and school spirit, while fostering sound competition. Annual extended class trips, both in-and-out of state, enhance history and the natural and social sciences.

A record number of Dorris-Eaton junior high students are published authors, testament to the strength of the language arts program. Each year, many seventh and eighth grade students qualify to take the SAT. A high percentage of them achieve Honors with Distinction or State Recognition in math, verbal, or both. Many also take part in university-based summer programs.

An active debate program puts students at center stage of active banter and intensive research. Participation in Mathcounts, American Mathematics competitions, and Science Bowl offers challenges and learning opportunities beyond the [classroom] curriculum.


The difference is education.