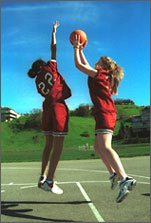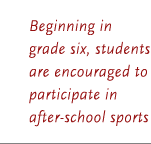 Beginning in grade six, students are encouraged to participate in after-school sports, competing against peers from area schools.

Back-to-school means back-to-the-gridiron for interested Dorris-Eaton boys and off-to-the-volleyball-court for girls.

Under watchful and experienced coaching eyes, the football team has developed a formidable reputation in the local football league of junior high and intermediate schools--powering its way to many league championships over the past ten years.

There are three girls'; volleyball teams to accommodate the avid interest: a sixth grade team, a combination sixth-seventh grade team, and an eighth grade team. Dorris-Eaton volleyball teams consistently reach the league finals. The volleyball coach is particularly adroit at building girls' confidence, while sharpening their skills. During the fall and spring terms, she holds an open-enrollment clinic.

Winter brings both boys and girls to the basketball courts. The coach has developed a winning formula-bringing together good training, a strong team mentality, the right mix of plays, and the drive to win. He also offers open-enrollment basketball clinics in the spring for elementary boys and girls.

Unofficial, but approached with equal zeal, are the sports events that comprise part of the Interhouse program. The rival houses participate in golf, soccer, Borden ball, netball, basketball, tennis baseball, kickball, and track and field events.


The difference is education.