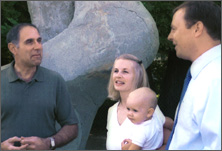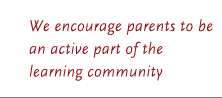 We believe parents are a significant factor in the education equation. We know that everything we do at The School-our teaching, the values we set forth, the examples we set-meet standards we share with our parents.

We encourage parents to be an active part of the learning community.

The library program affords the opportunity for parents to read aloud to a class or help students use the library. Behind the scenes, they assist the librarian with cataloguing and inventory.

Of course, parents frequently ferry students to sporting events and stay to cheer them on, or drive on local field trips, and many of them accompany students on the more adventurous overnight trips as well.

The Dorris-Eaton Parents' Association (DEPA) is an active facet of the school environment. In addition to spearheading the cultural enrichment program, which brings the magical and the exotic to campus through live performances, DEPA hosts parent/student events and peppers the school year with day-brighteners for students and faculty alike.

Parent volunteers organize, facilitate, and support community service drives and fundraising activities.

Dorris-Eaton parents are an indispensable part of our education process. We work together to demonstrate to our students our shared commitment to education.


The difference is education.