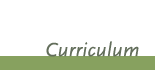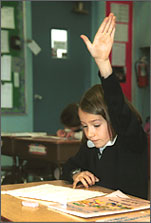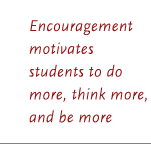 Stimulating and enjoyable, Dorris-Eaton's academically sound elementary curriculum allows teachers to gently stretch students to meet their potential. Children tackle all subjects with excitement and ease, because they know their teachers are there to walk them, step-by-step, through the process of successful learning. They also know that praise for a job well done awaits.

The multifaceted skill of reading is taught using a combination of phonics, sight vocabulary, quality literature, poetry, spelling clues, and class discussions. Guidance through the process of writing, along with a focused grammar program, help develop strong, confident writers. From third grade biographers to fifth grade essayists, students have ample opportunity to polish their style and skills. Their grammar knowledge also provides a logical foundation for learning a foreign language-in our case Spanish.

Public speaking, from early sharing to oral reports, fosters personal confidence and leadership abilities. Inhibitions fall away as students prepare for musical performances and all-school speech and spelling competitions, or perform as part of the band.

In mathematics, the focus on computational and conceptual thinking skills builds with each grade. Students are taught basic mathematical operations and to develop logical math strategies. The emphasis on logical thinking facilitates the transition to the more advanced math classes they will encounter in junior high.

Lively discussions and independent projects accompany history lessons on communities, cultures, and countries. Students learn to discern trends, read maps, and understand topography and its influence on history.

From moon phases to microscopes, metrics to microbes, the elementary science curriculum is designed to unearth curiosity and organize the quest for answers by introducing the scientific method and performing lab investigations.

In all that transpires throughout the elementary grades, thinking and questioning are [continually] encouraged. After all, problem solving-from mathematical to social-requires open-mindedness and initiative. At every level, encouragement motivates students to do more, think more, and be more.


The difference is education.