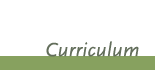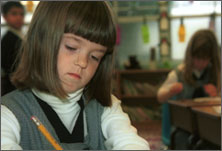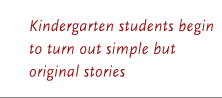 Kindergarten provides the first bold step in the journey through elementary school. Here children experience early successes in reading, explore math's mysteries, and develop learning skills. The morning is dedicated to subjects that require more focused attention: practicing phonics, reading, writing, and mathematics. The afternoon is spent exploring art, music, Spanish, and physical education, each taught by a specialized teacher.

A trip to the library to borrow books and listen to stories read by moms and dads is a weekly highlight.

As the year unfolds, kindergartners become adept at reading and writing. In class, they progress through three primers and meet the exciting challenge of tackling their first hard-bound reader. Gaining control of their pencils, students' vivid imaginations begin to turn out simple but original stories. Teachers guide students to observe carefully, think critically, and apply their new tools to science, social studies and simple story problems. Increased responsibility and independence add to their success, and success spurs them on.


The difference is education.